Joining Forces for Employee Health Benefits at a Better Cost
FCMA works hard to help our members and partners succeed in their goals. One way we've decided to assist is with our new Florida Manufacturers Health Consortium (FMHC), in partnership with UF Health. This is a health benefits purchasing program for employers, created for the purposes of:
Jointly negotiating better insurance prices and terms
Gaining long term stability in managing employee benefits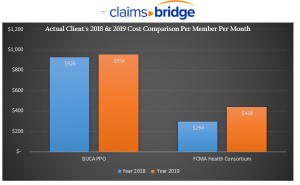 FMHC presents an alternative self-funded employer-centric market where employers can take back control, form their own purchasing pool, and succeed with self-funding. FMHC is available to all groups of employers with 5 or more enrolled employees.
The broad goal approach starts with addressing four goals of the employer:
Low cost
Stable renewals
Employer-centric risk management strategy
Insurance "when you need it"
FUNDING: Employers with less than 50 enrolled employees will make one level payment every month. Larger employers with 50 or more enrolled employees can choose their method of funding claims – either level funding or self-funding.
LEVEL SELF-FUNDING: FMHC offers true self-funding that is financed with level payments. If claims for the month exceed the maximum monthly funding, the claims administrator will recover from stop loss before the next payment is due and smooth monthly payments are achieved.
To find out more information and get a quote, call 904-299-3496 or visit our website.